Our Educational Philosophy
iABC 
International Perspectives – Ability – Benevolence – Courage
Confucius said
A wise person possesses a clear mind
A benevolent person does not worry about personal gains or losses
A courageous person is ready to take on a challenge
Through the following tenets, our students will have a multicultural learning experience and will better understand themselves and each other.
International Perspectives – the focus of gaining an awareness of history, understanding global cultures, communities, and challenges, and engaging in cross-cultural learning
Ability – the focus of developing different ways of thinking, communicating and collaborating, appreciating arts and culture, building academic and life skills, and incorporating fitness and mindfulness
Benevolence – the focus of practicing the golden rule, self-reflection, empathy, forgiveness, humility, humor, gratitude and generosity, and mutual success
Courage – the focus of building a sense of purpose, honor, a self-challange, mentality, grit, fairness, serenity, spirituality, and a zest for life
Even today, we see these principles displayed in stories such as The Wizard of Oz. For instance, Dorothy traveled to the magical land of Oz where she met her three companions. The Scarecrow wanted a brain. The Tin Man wanted a heart. The Lion wanted courage.
Every service GTL offers incorporates these four principles so that each individual can grow to become a better thinker, learner, and change maker in our world.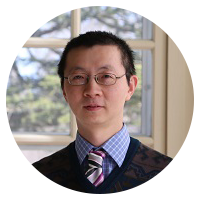 Lee Chen, M.D, Ph.D
Chief Strategist
Dr. Chen has developed an educational credo called iABC (international perspectives, Ability, Benevolence, and Courage). He is the co-executive director of iABC Consortium. He also serves as the president of Boston Institute of Global Wellness and Education (BIGWE) and Mathematics and Science Society for Youth (MSSY).
Dr. Chen received extensive biomedical education both in China and in the U.S. Previously, he worked for over 10 years as an instructor and a scientist at the Department of Psychiatry, Harvard Medical School and the VA Boston Healthcare System.