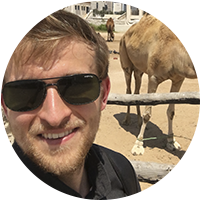 Ian Soder
A Graduate from NYU Shanghai
Hello, everyone! My name is Ian Soder, I am originally from Portland, Oregon, USA, and I am a member of the 2017 graduating class of NYU Shanghai!
I love watching and playing sports (basketball, american football, golf), traveling (especially Asia/Africa), learning languages (English, Spanish, Mandarin, Indonesian) and having insightful conversations about history, philosophy, the world economy, or really anything! Never hesitate to shoot me a message!
I am really excited to get to know everyone.