Former Vice President of MCPHS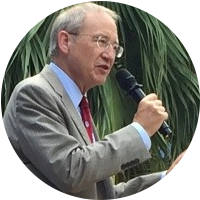 Dr. Humphrey is a higher education consultant based in Massachusetts. Humanities has been a core tenet in Dr. Humphrey's academic and professional pursuits. After receiving his bachelors' in Humanities from Case Western Reserve University,  he pursued his master's and doctoral in English Language and Literature in Boston University. Dr. Humphrey started his career teaching English at higher education institutions.

From 1980 to 2018, he began his leadership in MCPHS University serving various roles including department chair, director, vice president for academic planning, VP for international programs and finally VP for Academic Affairs. During his leadership, international programs at MCPHS flourished as Dr. Humphrey initiated student exchange programs with universities in China, Peru, Ireland, Saudi Arabia and Japan. Dr. Humphrey is a prolific author of publications on school leadership and healthcare education and a strong voice in worldwide forums on higher education.